The all-in-one POS solution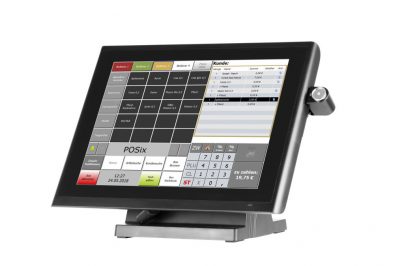 The small checkout system
With the POSix checkout, small retailers and restaurateurs can design their POS securely and efficiently. The system is easy to operate and can be used within a short time. POSix is distinguished above all by its solid and secure operation. Not only is the POS system TSE-capable, but it also works completely without internet access. All data is also stored directly in the cash register and is additionally secured by a backup program. The system also makes various additional functions, such as customer management, discounts or evaluations and exports, possible. The ZVT interface standard means that the cash register system can communicate with a card terminal and transfer payment sums. Thanks to this all-in-one solution, payment is also integrated at the POS.
The most important functions
Our cash register system complies with all applicable industry safety standards and is TSE-capable POSix can also be used offline. All data saved to the cash register is secured locally through an additional backup program.
POSix is especially ideal for small retailers and restaurateurs, such as boutiques and sandwich bars, as it's easy to install and can be used intuitively right away. Individual scan products can also be quickly entered via POSix.
POSix is a small yet very efficient cash desk system. This all-in-one solution offers a range of functions from branch-specific customer and discount management to data management and exports. So all processes are optimized at the POS and in your branch.